1938 Walker Dynamotive – Gas/Electric
Model500 – "Stand and Drive"
Click on the following links to follow the progress on the restoring of our 1938 Walker Dynamotive 500 Truck.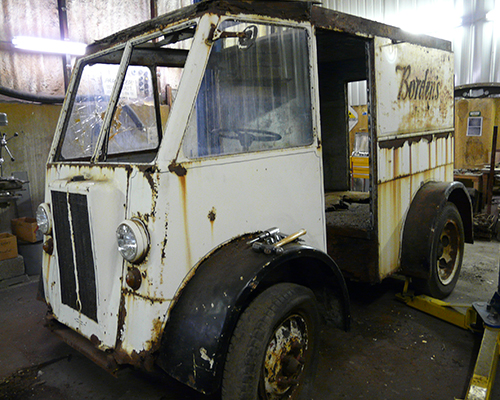 Truck as it was on 12-3-07 before any refurbishing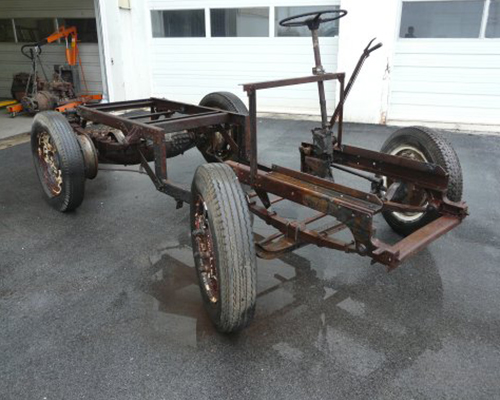 Bare chassis 12-11-07 as it was ready for sand-blasting
Truck to look like this brochure picture by 9-30-08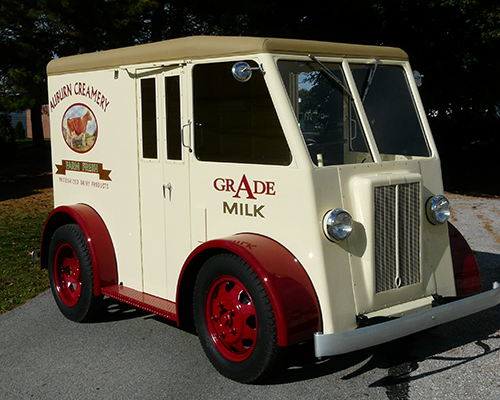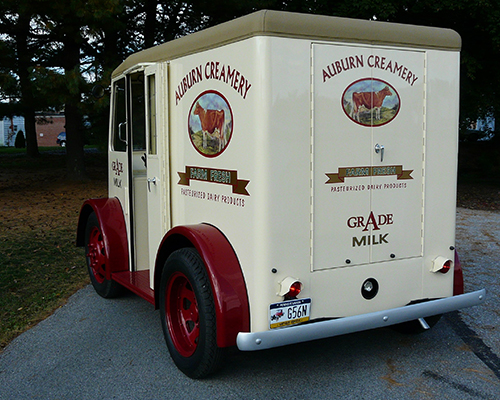 Truck completed October 9, 2008.
Truck completed October 9, 2008
There were two Truck Companies that manufactured delivery trucks in the late 1920's to early1940's Era that were know as Gas/Electric Trucks. These two Companies were the Thorne Motor Company of Cleveland, Ohio and the Walker Vehicle Company of Chicago, Illinois. (Vintage Truck Magazine published an article in the February 2008, Vol. #15 No 6 issue about the Thorne Motor Company and Gas/Electric Trucks). Thorne stopped manufacturing trucks in 1937 and Walker stopped the end of 1941.
Both of these companies had an unusual way of powering their trucks. They used four or six cylinder engines as the power source. Coupled to the flywheel of that gas engine was a huge generator that produced electricity while the engine was running. The electricity that the generator produced was controlled by relays and switches, that sent the electricity to an electric motor mounted in the rear of the chassis. Thorne mounted their motor forward of a typical differential and had a short drive shaft that was connected to the output shaft of the electric motor and it connected to the differential. Walker had a special designed rear axle assembly that had the electric motor installed sideways within that rear housing. There was a very small differential spider gear assembly on one end of that electric motor and the ring gear assembly was mounted inside a drum attached to each rear brake drum. These ring gears were turned by the axle shafts connected to the electric motor in the rear housing. (See picture diagram). This was a very unique method of propelling these delivery trucks. It was the forerunner design of the Diesel Locomotive power source of today.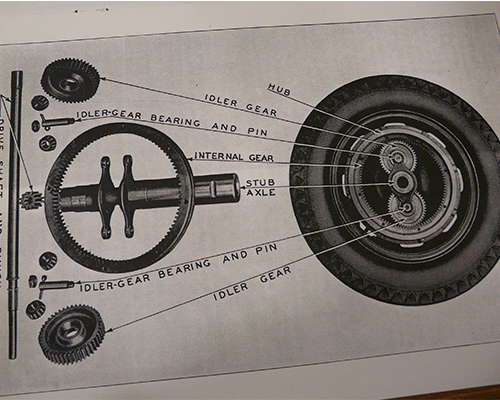 Walker rear wheel gear assembly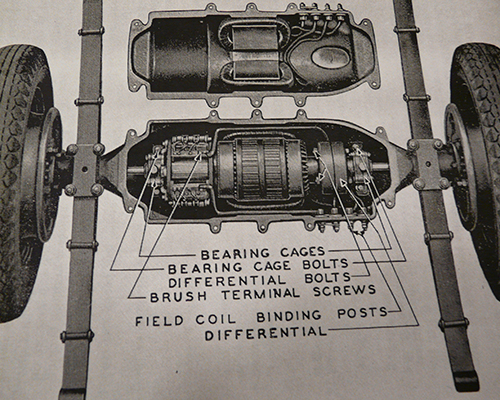 Walker rear electric motor housing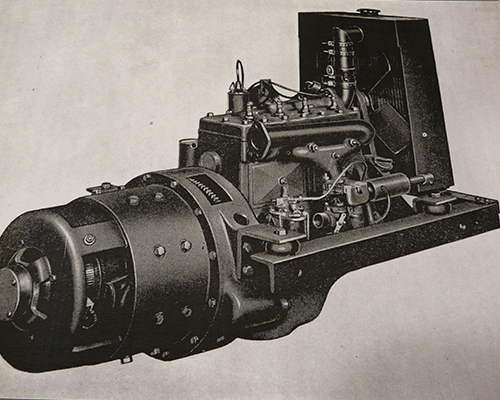 Walker & Thorne engine & generator
These Gas/Electric trucks were very easy to drive. There were no clutch/pressure plates to wear out, no gears to shift, no gear grinding, no transmission to repair, no drive–line to step over. It was just like having an automatic transmission of today. Not only was it simple to drive but the electric motors had maximum torque at the first revolution compared to the gas engine having to run at higher rpm to get maximum torque.
Restoring A Walker Dynamotive Truck
The Walker Dynamotive Delivery trucks have been off the road for many years. I never saw one but I heard of them over the years in conversations now and then when we were talking about the Gas/Electric Trucks. You can imagine the surprise I had when I received an email with pictures of two trucks from a man asking me – "What are these darn trucks??I wasn't sure so I asked some of my knowledgeable friends. Two responded that they were Walker Dynamotive trucks. One gentleman, who is an expert on Gas/Electric trucks, said "Wow, I haven't seen one of these in about 50 years.?After further investigation into the trucks to find their location and who owned them, I decided that I would like to take part in the restoration of these trucks if at all possible. The owner of the trucks was NATMUS (National Automobile and Truck Museum, in Auburn, IN). I contacted them through the help of the man that sent me the email. I talked to Mr. Don Grogg, Executive Director of NATMUS, and we ended up developing a Project Partnership to restore one of the Walker Dynamotive Trucks.
I took possession of these two trucks on November 29, 2007 when they were loaded into my transport trailer and hauled to Pennsylvania. To view the step by step restoration pictures of the Walker truck, click on the phase 1, phase 2 and/or the phase 3 sections.
This truck has been on display at many AACA, ATHS, ATCA and Concour d'Elegence Shows since October 2008. On October 11, 2008 it received a Junior First at the AACA Hershey Fall Show, May 30, 2009 it was awarded the Senior Award at the Gettysburg AACA Spring Show, it was nominated in 2009 by the AACA National Award Committee as one of the finalist for the 2009 National Award and it won the AACA Grand National First Prize in its Class at the New Bern, NC. AACA Grand National Spring Meet.
In October 2011 the Walker truck was nominated again by the AACA National Awards as a nominee for a National Award. In December 2011 we were notified that the Walker had won and we would receive the Award at the Annual AACA Meeting and Awards Banquet in Philadelphia. So on February 11th, 2012 we received the AACA 2011 National Senior Truck of the Year Award. In four years time we went from a beat up old truck to the 2011 Senior Truck of the Year. This is a dream come true and is Honor which we will always cherished.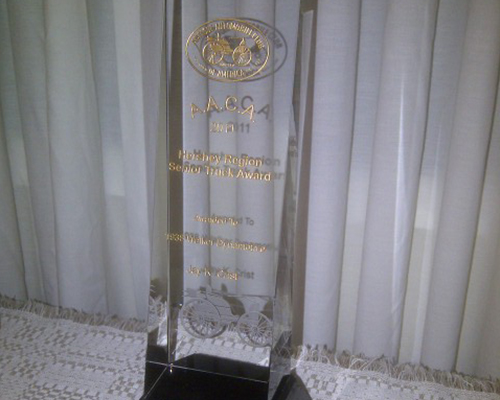 AACA 2012 Senior Truck Award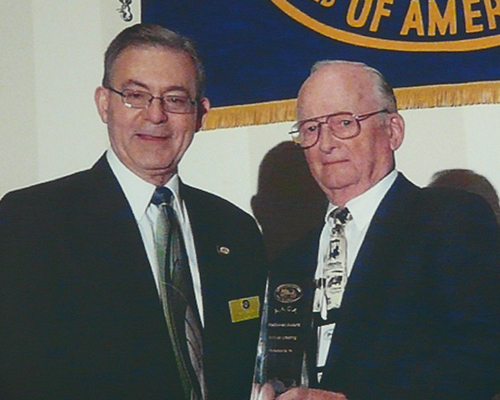 Receiving the Award at February 2012 Annual Mtg.